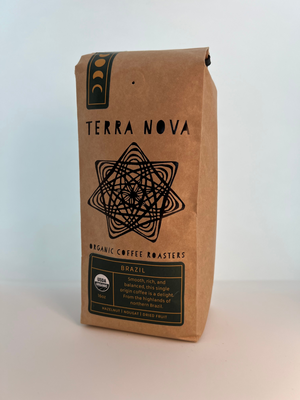 Terra Nova Brazil Coffee, 1 lb Bag
Sale price Price $ 15.00 Regular price
We're proud to offer Rainforest Alliance Certified organic coffee direct from Brazil. We carefully roast the arabica beans to the perfect medium-dark, bringing forward balanced notes of hazelnut, nougat, and dried fruit. The family owned and operated farm we source our beans from is focused on biodiversity and sustainable land management, making this coffee even easier to enjoy! Smooth and rich, this coffee will keep you coming back for a second (and maybe third) cup. Freshly roasted. Packaged to order. 

Brazil is smooth, rich, and balanced - this single-origin coffee is a delight. 
Notes of hazelnut | nougat | dried fruit
Roast Level: Medium-Dark

Region: Matas de Minas
Growing Altitude: 650–1,400 masl
Arabica Variety: Red and yellow Catuai, Mundo Novo, Bourbon, Catucai, yellow Pacamara, Icatu, Geisha, Catiguá MG3, Aramosa, Kent
Milling Process: Natural
Terra Nova coffee is always 100% USDA organic, responsibly sourced, and small-batch roasted in Keene, New Hampshire.