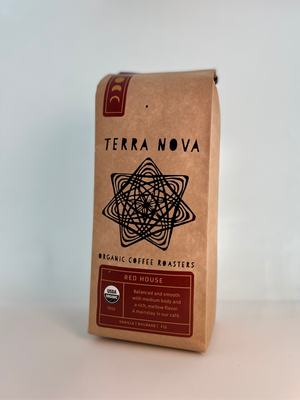 Terra Nova Red House Coffee, 1 lb. Bag
Sale price Price $ 15.00 Regular price
Red House coffee blend is a popular mainstay in our café in Keene, New Hampshire. It is a smooth medium roast coffee, made from a blend of Central and South American beans. It has a rich, mellow flavor that our customers love. Medium-bodied with chocolate notes, it makes for a delicious breakfast blend to start the day. Freshly roasted. Packaged to order.
Red House is balanced and smooth with medium body and a rich, mellow flavor. A mainstay in our cafe.
Notes of vanilla | rhubarb | fig
Roast Level: Medium

Terra Nova coffee is always 100% USDA organic, responsibly sourced, and small-batch roasted in Keene, New Hampshire.