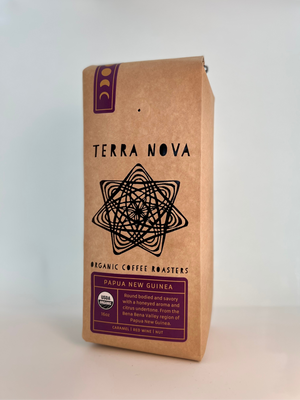 Terra Nova Papua New Guinea Coffee, 1 lb. Bag
Sale price Price $ 15.00 Regular price
Single-origin Papua New Guinea beans from the Bena Bena Valley are brought to a smooth dark roast that is round-bodied. With hints of caramel, nuts, and red wine it's a bold coffee that's sure to please dark roast lovers across the board. We find that PNG is especially good in a French Press. We source directly from New Guinea Highlands Coffee Export, which has programs to assist farmers in obtaining their Organic certification as well as social initiatives including HIV/AIDS prevention, financial management, and gender equality awareness. Freshly roasted. Packaged to order.
Papua New Guinea is round bodied and savory with a honeyed aroma and citrus undertone. From the Bena Bena Valley region of Papua New Guinea. 
Notes of caramel | red wine | nut
Roast Level: Dark
Terra Nova coffee is always 100% USDA organic, responsibly sourced, and small-batch roasted in Keene, New Hampshire.