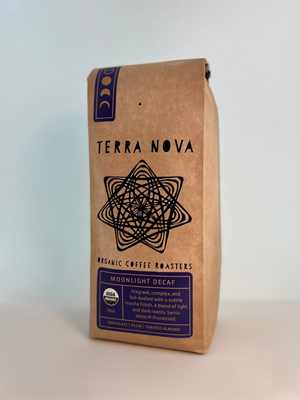 Terra Nova Moonlight Decaf Coffee, 1 lb. Bag
Sale price Price $ 15.00 Regular price
Formerly Magical Mocha Decaf
A delicious decaf coffee for coffee lovers who don't want the kick. Fragrant, complex, full-bodied, with a rich and subtle mocha finish. Naturally decaffeinated coffee via Water Process, a decaffeination process that is 100% chemical-free. A delightful blend of two different coffee roasts: Central American and Indonesian decaf coffees, one brought to a light roast and the other to a dark roast. Freshly roasted. Small batch blended and packaged to order. 
Moonlight Decaf is fragrant, complex, and full-bodied with a subtle mocha finish. A blend of light and dark roasts. Water Processed. 
Notes of chocolate | plum | toasted almond
Roast Level: Medium 

Terra Nova coffee is always 100% USDA organic, responsibly sourced, and small-batch roasted in Keene, New Hampshire.