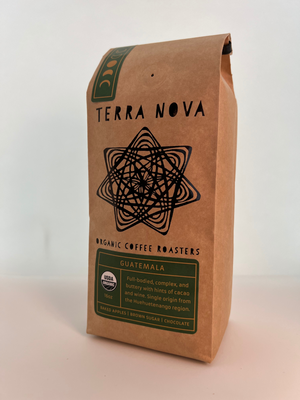 Terra Nova Guatemala Coffee, 1 lb. Bag
Sale price Price $ 15.00 Regular price
Single-origin Guatemalan coffee brought to a crisp medium roast. Full-bodied and nutty with hints of chocolate and wine. It's slightly sweet and great for an anytime pick-me-up. Our coffee beans come from several small cooperatives working together under ASDECAFE, a sustainable coffee association with organic certification and over 1,000 producer-members. Freshly roasted. Packaged to order.
Guatemala is full-bodied, complex, and buttery, with hints of cacao and wine.
Notes of baked apples | brown sugar | chocolate

Roast Level: Medium
Terra Nova coffee is always 100% USDA organic, responsibly sourced, and small-batch roasted in Keene, New Hampshire.