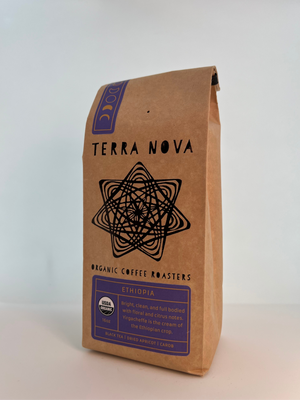 Terra Nova Ethiopia Coffee, 1 lb. Bag
Sale price Price $ 15.00 Regular price
Ethiopia is the birthplace of coffee, and Yirgacheffe is the cream of the Ethiopian crop. This single-origin light roast is bright and smooth with a rich body, distinctive tropical floral and citrus notes, and a fragrant aroma. Ethiopian heirloom varietals are chosen from the forest and transplanted to small gardens, adding a layer of selection to the incredible complexity available among wild coffee plants. This coffee is a must-have for anyone who loves light roasts. Freshly roasted. Packaged to order.
Ethiopia is bright, clean, and full bodied with floral and citrus notes. Yirgacheffe is the cream of the Ethiopian crop. 
Notes of black tea | dried apricot | carob
Roast Level: Light
Region: Woreda Zone, Gedeo, Yirgacheffe
Growing altitude: 1900-2300 masl
Arabica variety: Heirloom varietals
Harvest period: October–February
Milling process: Natural
Terra Nova coffee is always 100% USDA organic, responsibly sourced, and small-batch roasted in Keene, New Hampshire.