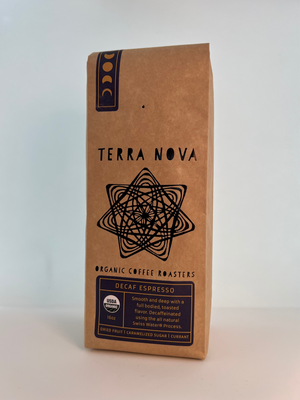 Terra Nova Decaf Espresso Coffee, 1 lb. Bag
Sale price Price $ 15.00 Regular price
Created for our espresso bar, Decaf Espresso is a delicious dark roast to enjoy any time. We love it in a French Press! This naturally decaffeinated coffee is rich and smooth, with a toasted flavor and full mouthfeel. Perfect as a gentle digestive after a rich meal. Water Process is a method to decaffeinate coffee that is 100% chemical-free. Freshly roasted. Hand-blended and packaged to order.
Decaf Espresso is smooth and deep with a full bodied, toasted flavor. Decaffeinated using Water Processes. 
Notes of dried fruit | caramelized sugar | currant
Roast Level: Dark

Terra Nova coffee is always 100% USDA organic, responsibly sourced, and small-batch roasted in Keene, New Hampshire.