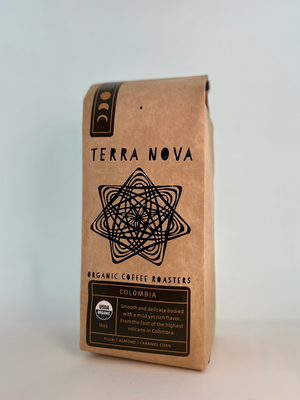 Terra Nova Colombia Coffee, 1 lb. Bag
Sale price Price $ 15.00 Regular price
This popular single-origin coffee is made with only Colombian coffee beans brought to a smooth medium roast. It's not too soft, and not too strong, making it a friendly constant for your morning. Our beans come from the municipality of Planadas, at the foot of the snow-peaked Nevado del Huila, the highest volcano in Colombia. Fruity and sweet with a delicate body, Colombian coffee is never bitter. It has a mild but rich aroma. Freshly roasted and packaged to order. What can we say? You just can't go wrong with Colombian coffee! Freshly roasted. Packaged to order.
Colombia is smooth and delicate bodied with a mild yet rich flavor. From the foot of the highest volcano in Colombia.

Notes of plum | almond | caramel corn
Roast Level: Medium 
Region: Tolima, Planadas

Growing Altitude: 1,500–1,800 masl

Arabica Variety: Caturra, Colombia, Castilla, Tipica

Harvest Period: April–May

Milling Process: Washed, dried on patios and in dryers
Terra Nova coffee is always 100% USDA organic, responsibly sourced, and small-batch roasted in Keene, New Hampshire.