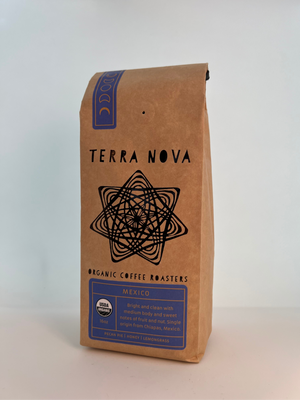 Terra Nova Mexico Coffee, 1 lb. Bag
Sale price Price $ 15.00 Regular price
It's like sunshine in a cup! Pure single-origin Mexican coffee. This lightly roasted brew is bright with a medium-body and sweet overtones of fruits and nuts. The coffee beans come from a Social Solidarity Society (SSS), which is a group intended to be a source of social and environmental improvement. So not only is the coffee delicious, it is actively making a difference in the world. Freshly roasted. Packaged to order.
Mexico is bright and clean with medium body and sweet notes of fruit and nut. 
Notes of: pecan pie | honey | lemongrass
Roast Level: Light 
Terra Nova coffee is always 100% USDA organic, responsibly sourced, and small-batch roasted in Keene, New Hampshire.