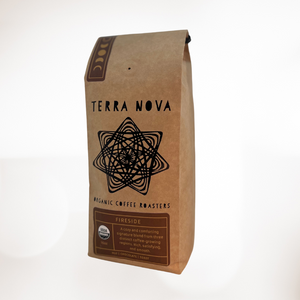 Terra Nova Fireside Coffee, 1 lb. Bag
Sale price Price $ 15.00 Regular price
A cozy cup of roasted goodness! We roast premium arabica beans from all over the world at two different roast levels, then mix the two roasts together. The result is a rich coffee that's nutty, chocolaty, and a little smoky with a smooth finish. Perfect for sipping fireside or after a tasty meal. Our customers look forward to this seasonal blend every year, and truthfully, we do too! Freshly roasted. Small batch blended, and packaged to order.

For a limited time only - get it while it lasts!
Fireside is a cozy and comforting signature blend from three distinct coffee-growing regions. Rich, satisfying, and smooth.
Notes of nut | chocolate | toast
Roast Level: Medium-Dark

Terra Nova coffee is always 100% USDA organic, responsibly sourced, and small-batch roasted in Keene, New Hampshire.