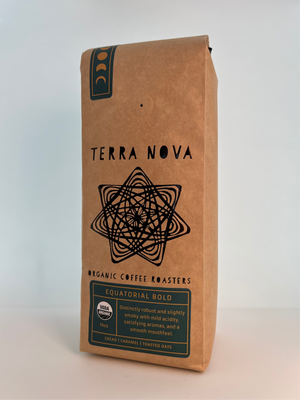 Terra Nova Equatorial Bold Coffee, 1 lb. Bag
Sale price Price $ 15.00 Regular price
Bold beans for bold coffee drinkers! We blend smooth Central and South American with rich Indonesian coffees in this dark roast blend. The result is a deep, slightly smoky treat for your senses. Equatorial Bold is taken to a darker full city roast that delivers deep, almost sweet flavor. This full-bodied roast will surely put a kick in your cup. Freshly roasted. Packaged to order.
Equatorial Bold is distinctly robust and slightly smoky with mild acidity, satisfying aromas, and a smooth mouthfeel. 
Notes of cacao | caramel | toasted oats
Roast Level: Dark 

Terra Nova coffee is always 100% USDA organic, responsibly sourced, and small-batch roasted in Keene, New Hampshire.