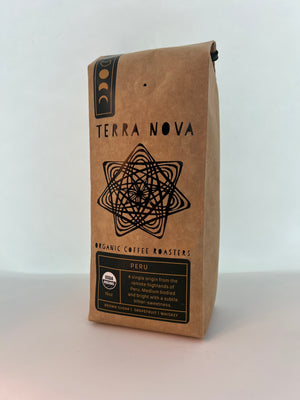 Terra Nova Peru Coffee, 1 lb. Bag
Sale price Price $ 15.00 Regular price
Final days! We carefully roast the arabica beans to bring forward sweet notes of brown sugar, grapefruit, and whiskey. Fair Trade and certified organic. Creamy and smooth, this coffee is easy to enjoy any time of the day. Get it while it lasts! Freshly roasted. Packaged to order. 
Limited Edition Peru is a single origin coffee from the remote highlands of Peru. Medium bodied and bright with a subtle bitter-sweetness.
Notes of brown sugar | grapefruit | whiskey
Roast Level: Medium
Terra Nova coffee is always 100% USDA organic, responsibly sourced, and small-batch roasted in Keene, New Hampshire.