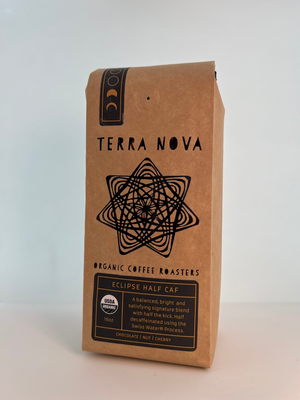 Terra Nova Eclipse Half-Caf Coffee, 1 lb. Bag
Sale price Price $ 15.00 Regular price
You asked, we listened! Eclipse Half-Caf: all of the flavor, half of the kick. We combine green arabica beans from Indonesia and Mexico, half caffeinated and half decaffeinated using Water Process, then bring them to the perfect medium roast together, producing a nutty, chocolaty, and bright alternative to fully-caffeinated coffee. Perfect for those who are sensitive to caffeine, transitioning to decaf, or simply just don't want the full caffeine content of our other roasts. This blend tastes so good, you won't even notice the difference. Freshly roasted. Packaged to order.

Eclipse Half-Caf is a balanced, bright, and satisfying signature blend with half the kick. Half decaffeinated using Water Processes. 
Notes of chocolate | nut | cherry
Roast Level: Medium

Terra Nova coffee is always 100% USDA organic, responsibly sourced, and small-batch roasted in Keene, New Hampshire.