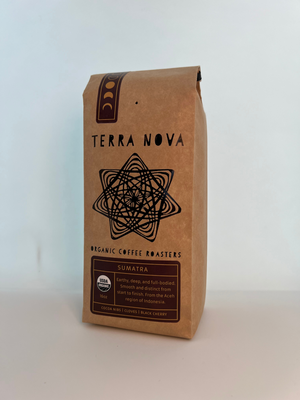 Terra Nova Sumatra Coffee, 1 lb. Bag
Sale price Price $ 15.00 Regular price
Sumatra is one of our best-selling single-origin coffees, and for good reason. Earthy, spicy, chocolatey, and rich, this full-bodied coffee is the perfect medium roast. Some even find it reminiscent of fine red wine. There's a beautiful specialty coffee culture blooming in Sumatra, and we're fortunate to get our coffee from enthusiastic cooperatives eager to share their expertise and love of good coffee. Freshly roasted. Packaged to order.
Sumatra is is earthy, deep, and full-bodied. Smooth and distinct from start to finish. 

Notes of cocoa nibs | cloves | black cherry
Roast Level: Medium
Terra Nova coffee is always 100% USDA organic, responsibly sourced, and small-batch roasted in Keene, New Hampshire.