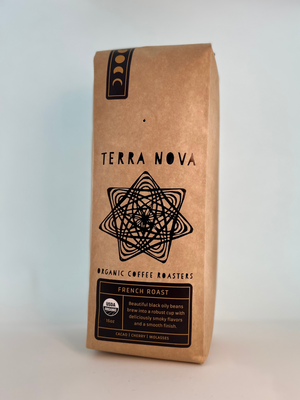 Terra Nova French Roast Coffee, 1 lb. Bag
Sale price Price $ 15.00 Regular price
Dark roast coffee lovers rejoice! Our French Roast has a deliciously deep smoky flavor with a smooth finish. Our darkest roast process reveals the signature dark chocolate color. French Roast is a distinctly aromatic, full-bodied coffee, with rich flavor. A robust cup meant to be enjoyed any time of the day. Freshly roasted. Packaged to order. This is our strongest dark roast coffee.
French Roast's beautiful black oily beans brew into a robust cup with deliciously smoky flavors and a smooth finish. 
Notes of cacao | cherry | molasses
Roast Level: Darkest

Terra Nova coffee is always 100% USDA organic, responsibly sourced, and small-batch roasted in Keene, New Hampshire.