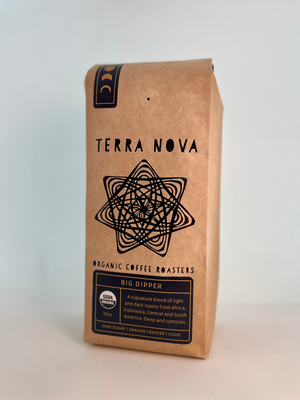 Terra Nova Big Dipper Coffee, 1 lb. Bag
Sale price Price $ 15.00 Regular price
Pour a big cup of this dark roast blend and taste a full-bodied brew that's full of flavor. We carefully select coffee beans from all over the world: Africa for brightness, Central and South America for body, and Indonesia for subtle, earthy smokiness. Two different roast levels are blended, giving Big Dipper complex notes including floral and citrus. Freshly roasted. Small-batch blended and packaged to order, this is a must-try for any coffee lover. 
Big Dipper is a signature blend of light and dark roasts from Africa, Indonesia, Central and South America. Deep and complex.
Notes of cane sugar | graham cracker | clove
Roast Level: Dark

Terra Nova coffee is always 100% USDA organic, responsibly sourced, and small-batch roasted in Keene, New Hampshire.